Paneer is a somewhat soft cheese that comes in a block.  It does not melt like aged cheese.  So it still keeps its shape in cooked dishes like this one.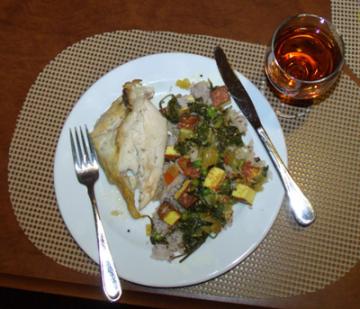 This can be spicy hot or not..... all up to you.  Taste great either way.  Nice to serve with chapatis (Indian flour tortilla).
1 Tbsp oil
1 lb diced paneer (find in Indian store)
1 tsp mustard seed
1-2 green chilies or 1 red chili, lightly crushed (small amount to none for low spiciness)
1 medium onion, chopped
1 tsp tumeric
2 large tomatoes (chopped finely)
2 bunches of greens, washed and chopped (spinach, saag, chard, beet greens, etc)
1/4 cup or so of frozen peas
1 tsp garam masala powder, optional
2 Tbsp plain yogurt
Heat saute pan at meadium high with oil.  Brown the paneer pieces.  May have to do this in batches.  Get most sides browned.  Remove from pan with slotted spoon and place in bowl.  Set aside.
Add mustard seeds and chilies to pan.  Seeds should begin to sputter.  (The seeds and chili flavor the oil.)
Add the onions and spinkle with a little salt.  Cover and lower the heat.  Let the onions cook in their own juice until translucent (or as much as you like).
Sprinkle onion with tumeric and stir in.  Stir in tomatoes.  Up the heat a little and cover again.  Cook til tomatoes are paritally soft.
Add the greens.  Stir and cover.  Up the heat to medium or medium high, depending upon how much water was still clinging to the greens.  Let the greens cook down.  How much you cook the greens is up to you.  Many will cook it to the complete mush stage.  I don't cook it that much.
Shortly before the greens are at the stage you wish for them, add the peas.  Then stir in the garam masala if you are using it.
Once the cooking is done, stir in the yogurt, cover and remove from the heat.  Let it sit for 5 to 10 minutes.  The yogurt should "disappear" into the dish.  
Variations  (play with it as you wish)
Can use minced garlic or garlic powder if you wish.
I also frequently add ground paprika with the tumeric.
Can add chopped red or yellow bell pepper with the onions.
Can leave out the peas.
Can use soybeans instead of peas.